Your Title Goes Here
Enter subtitle here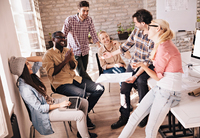 This is where your text starts. You can click here to start typing. Sed ut perspiciatis unde omnis iste natus error sit voluptatem accusantium doloremque laudantium totam rem aperiam eaque ipsa quae ab illo inventore veritatis et quasi.
Ea commodi consequatur quis autem vel eum iure reprehenderit qui in ea voluptate velit esse quam nihil molestiae consequatur vel illum qui dolorem eum fugiat quo voluptas nulla.
As men, we have this innate desire to be our own ruler. We rely too often on the seen world and equate our success or failure based on opinions of others. In Jeremiah 17:5 the LORD says: "Cursed is the man who trusts in mankind and makes flesh his strength, and whose heart turns away from the LORD."
We have all been let down by a person, however I would venture to say that each of us have let someone down. When we try, and lead the way it can get very frustrating and exhausting.
If you think about your body and how quickly it can break down. It can quickly be compromised with the smallest injury or sickness. A world class athlete can lose everything with a torn ligament in knee. A musician can be totally sidelined by a broken finger. A cell so small that you must use and electron microscope to see can create a deadly disease that can breakdown the strongest man.
The only true source of strength is found in Jesus Christ. When things get, tough don't turn away as the world would suggest, but turn to the one that Loves you.